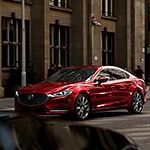 With so many helpful design features available on the Mazda6, it is easy to see why it has become such a popular midsize sedan. You will find each of the features adds a certain element to the vehicle, be it for style or safety purposes. You can see the car when you visit Mazda of Wooster.
As you are driving, the lane keep assist feature will help you to stay in your lane. If the car senses that you are unintentionally moving to one side or another the steering will begin to subtly correct itself. This will help you to avoid other cars in heavy traffic.
You will also notice the automated high beam control feature. You will be able to see in dark conditions while having the added peace of mind that the system will switch back to low beams when cars are coming your way. Test drive the Mazda6 today when you stop by Mazda of Wooster.